A Commitment to Quality
Since 1975, Good Shepherd has worked to identify and respond to the needs of senior adults of all ethnicities and backgrounds in our community.
We began as an ecumenical mission conceived by the bishops of Arkansas' Catholic, Episcopal, Presbyterian, and United Methodist churches to provide an innovative way to fill the need for affordable, not-for-profit housing options for local seniors. Over time, Good Shepherd has grown from a single building of 200 apartments into a full-service retirement community with five facilities encompassing more than 500 apartments, all located on a picturesque 140-acre campus in west Little Rock.Good Shepherd is committed to offering our residents a balanced quality of life by providing a true community atmosphere, attractive living spaces, and a healthy and independent lifestyle – with all the comforts and conveniences of home – including good friends and neighbors. You're never alone in this loving and caring community, yet we respect your privacy while still providing the services you want and need. With a commitment to quality and a ministry-based approach to senior services, Good Shepherd is making a difference and touching lives across Arkansas.
Our Mission

Good Shepherd exists to provide a quality, affordable living experience in a faith-based community and is committed to maintaining the independence, well-being, and dignity of all our residents.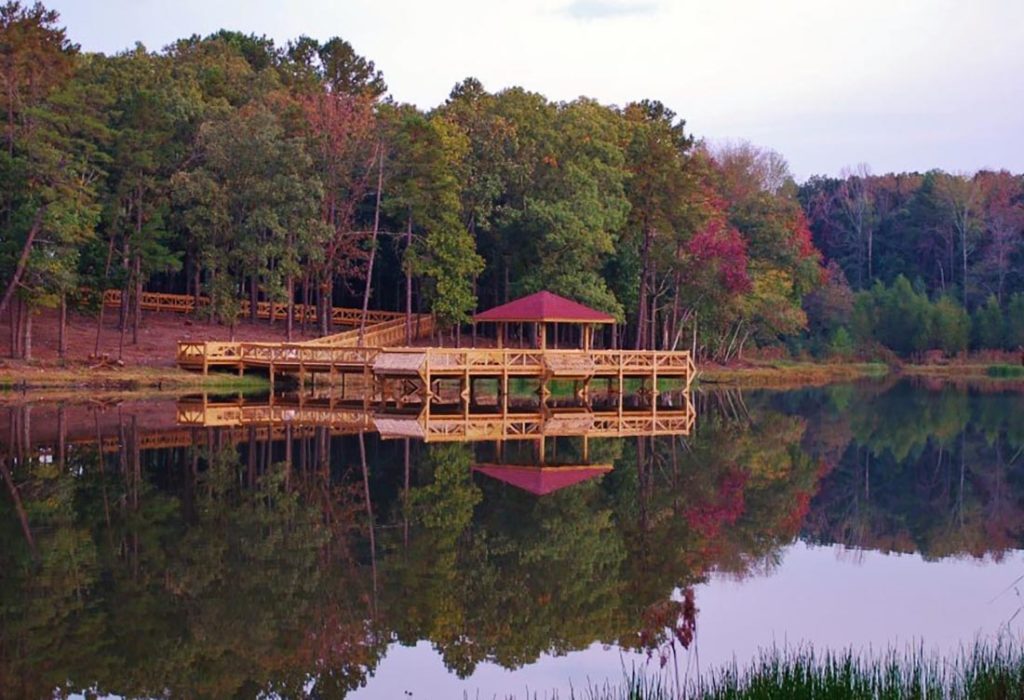 Fisher's Lake and Bishopsgate Park
Outdoor Park and Fishing Dock
In 2001, Good Shepherd Community, under the leadership of then Chairman of the Board, Robert Fisher, acquired an adjacent 85-acre tract of land east of our existing campus on Aldersgate Road. The tract includes a 5-acre lake accessible to Good Shepherd residents. It is named "Fisher's Lake" in honor of and thanksgiving for Robert and Janet Fisher.
Plans for the development of Good Shepherd's lakeside area began in earnest in 2007 by removing an old, green, wooden "A-Frame" pavilion onsite and raising the canopy of the trees bordering the lake. Shortly thereafter, Good Shepherd conceived a plan to develop the lakeside park for our residents' use and to honor Good Shepherd's founding denominations. Hence, the name, "Bishopsgate Park."
With the aid of donations received from our Bishop's Luncheon proceeds, Good Shepherd, in 2012, constructed a handicap accessible boardwalk leading to a covered Fishing Pier on Fisher's Lake. The development was designed by the Arkansas Game and Fish Department. Our boardwalk and fishing pier were constructed at a very slight grade, enabling residents of all skill levels to safely enjoy the beautiful outdoors. Aside from taking a relaxing stroll, residents can fish from the pier and walkway on their own or join in the annual fishing derby hosted by our Activities Department.
On All Saints Day, 2019, the beauty of the park was again enhanced with the addition of a 30' cross, graciously bestowed upon Good Shepherd by the ACCESS Group, Inc. after it purchased the former First Christian Church Little Rock property on Mississippi Street, where the cross was originally installed in the early 1960s.